"US Special Forces School Publishes New Guide For Overthrowing Foreign Governments"
A 250-page study entitled "Support to Resistance: Strategic Purpose and Effectiveness" has been put out by the Joint Special Operations University (JSOU) under US Special Operations Command.
JSOU is the Army's official unified command centre which overseas covert and clandestine missions out of MacDill AFB in Florida USA.
"This work will serve as a benchmark reference on resistance movements for the benefit of the special operations community and its civilian leadership," the report introduces.
It examines 47 instances of US special forces aiming to intervene in countries from 1941-2003, but it doesn't include coups which lacked "legitimate resistance movements" — such as the case of 'Operation AJAX' in 1953 which overthrew Iran's democratically elected Prime Minister Mohammad Mosaddegh.
Common to all 47 cases reviewed in this study was that the targeted state was ruled by an unfriendly occupying force or by a repressive authoritarian regime the author, Army Special Forces veteran Will Irwin wrote. The study focuses on historical regime change operations but in parts hints at the future, saying, "Russia and China have boldly demonstrated expansionist tendencies."
Success vs. Failure data from the new US military study published earlier this week entitled Support to Resistance: Strategic Purpose and Effectiveness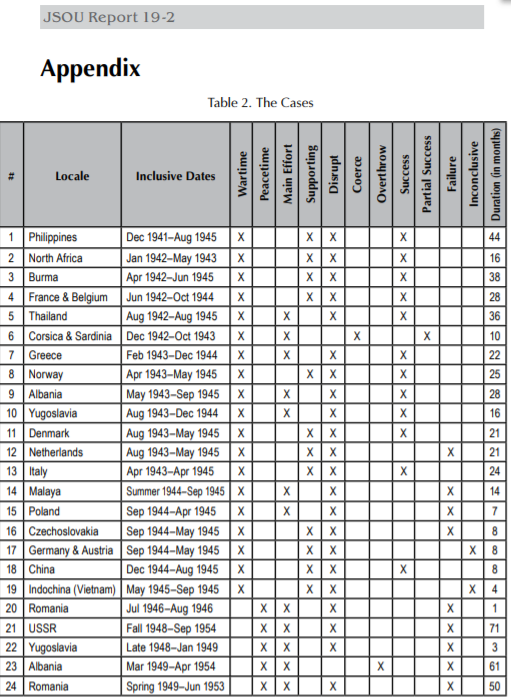 Unrest across the Middle East since the fall of the Soviet Union is blamed on the legacy of past Soviet policy and failures, rather than on the United States.
Newsweek which carried this story summarises of the study's conclusions:
Of the 47 cases analyzed, 23 were deemed "successful," 20 were designated "failures," two were classified as "partially successful" and two more—both during World War II—were called "inconclusive" as the broader conflict led to an Allied victory anyway. Coercion was the most successful method at a three-quarters rate of success or partial success, while disruption worked just over half the time and regime change only yielded the desired result in 29 percent of the cases reviewed.
and
Other major findings included observations that most operations "were carried out under wartime conditions, with those being nearly twice as successful as cases conducted under peacetime conditions" and "support to nonviolent civil resistance seems to be more likely to succeed than support to armed resistance." At the same time, they were also "most effective when conducted in direct support of a military campaign rather than as an independent or main effort operation."
Identifies about half a dozen governments that were "successfully" overthrown by US operations, but in many more cases identifies covert "disrupt" operations for a desired outcome.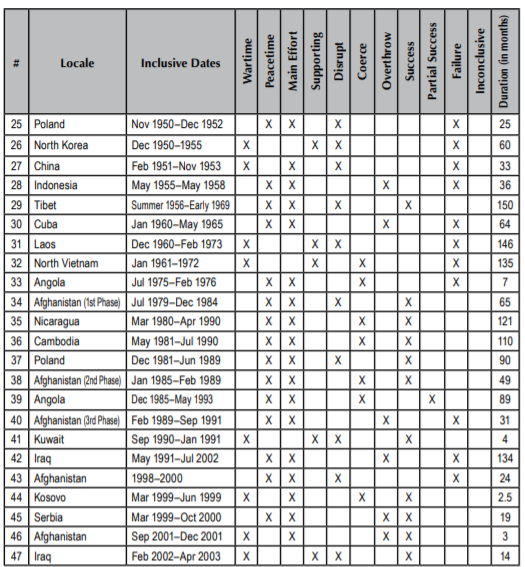 The study did not include current wars which have unfolded in the past decade, such in Syria or Libya or Ukraine, but only mentions these in passing.
The author acknowledges that the study could help "explore ways the timely application of SOF capabilities" can influence "resistance movements" which are becoming increasingly violent, "thereby possibly helping to prevent the next Syria".
The author believes US support to the "rebels" in Syria was doomed from the beginning remains unexplored as to why?
Following gives the direct details and links to the JSOU site (my favourite is this one Warrior Pose: Building Readiness through Resilience – Yoga and Meditation ):

Special Operations Research Topics 2020
Special Operations Research Topics 2020
Joint Special Operations University's (JSOU) publication of Special Operations Research Topics 2020 represents a list of Special Operations Forces (SOF)-related research topics proposed so that the resulting research can provide insight and recommendations on issues and challenges facing the SOF enterprise. As in previous years, this list is tailored to address the United States Special Operations Command (USSOCOM) Commander's special operations priorities. This year's topics focus on how the confluence of information, technology, and innovation (artificial intelligence, machine learning, cyber operations, and big data) affect these issues. Researcher may explore and identify doctrine, capabilities, techniques, and procedures that will increase SOF effectiveness in addressing them. At the same time, research on these topics may be used to inform policymakers, military professionals, and the public of the issues and challenges facing the SOF community.
19-2
Support to Resistance: Strategic Purpose and Effectiveness by Will Irwin with foreword by Lieutenant General John F. Mulholland, Jr.
This monograph is the first in a planned series of three volumes that will provide Special Operations Forces (SOF) with an in-depth study of resistance movements. Mr. Will Irwin provides a wealth of case studies focused on the United States Government's support to resistance movements. For each of his case studies the author summarizes in a clear, concise manner the duration of U.S. support, the political environments or conditions, the type of operation, the purpose or objective of U.S. support, and the ultimate outcome: success, partial success, failure, or an inconclusive outcome. Unfolding world events are indicative of the need for SOF to maintain and enhance traditional unconventional warfare (UW) skills, but those skills must be assessed in the context of modern resistance movement dynamics. This work will serve as a benchmark reference on resistance movements for the benefit of the special operations community and its civilian leadership.
19-1
Political Strategy in Unconventional Warfare: Opportunities Lost in Eastern Syria and Preparing for the Future by Carole A. O'Leary and Nicholas A. Heras
Framed by more than three decades of anthropological research experience working in Syria and surrounding Middle Eastern countries, and experience working with both U.S. development and military entities, Dr. O'Leary and Mr. Heras offer a sociocultural and political analysis valuable for deployed SOF. They contend that the political strategy necessary for sustainable strategic effect in the unconventional warfare (UW) component of the counterterrorism operation against the Islamic State of Iraq and Syria (ISIS) was subordinated to the operational level imperative to cultivate a viable proxy force. The authors offer SOF a way to conceptualize strategic political analysis for UW efforts using Syria as a recent case study, but also provide a glimmer of hope for consolidating the gains made there in support of national policy.
Occasional Paper
Warrior Pose: Building Readiness through Resilience—Yoga and Meditation by Ajit V. Joshi
Mr. Ajit V. Joshi's award-winning research asserts that the foundation for readiness is resilience, which aligns with the warrior ethos and is an enduring quality of good leaders. A variety of techniques and practices including yoga, trauma sensitive yoga, systematic relaxation, breathing (pranayama), meditation, yoga nidra, and iRest Yoga Nidra are evidenced based tools with proven efficacy for improving the health and resilience of Joint Force service members and their families. Leading change in the Joint Force to adopt these tools for all service members' comprehensive physical, mental, and spiritual fitness is vital in a world of greater uncertainty, but barriers exist both at individual and organizational levels. This paper defines relevant terms; reviews the extensive literature on the subject, with particular attention to the conclusions of studies conducted with veteran and military populations; examines the relevance of these tools to the modern warrior ethos and military culture; and makes specific recommendations regarding cultural and institutional change to facilitate program implementation. Mr. Joshi conducted this research while attending the U.S. Army War College and received the U.S. Army War College Commandant's Award for Distinction in Research for excellence in research and writing.

http://www.twitter.com/MohammedAbbasi
http://www.facebook.com/MohammedAbbasi
http://www.linkedIn.com/MohammedAbbasi
http://www.youtube.com/AbbasiOfficial
Mohammed Abbasi
( feel free to get in touch )